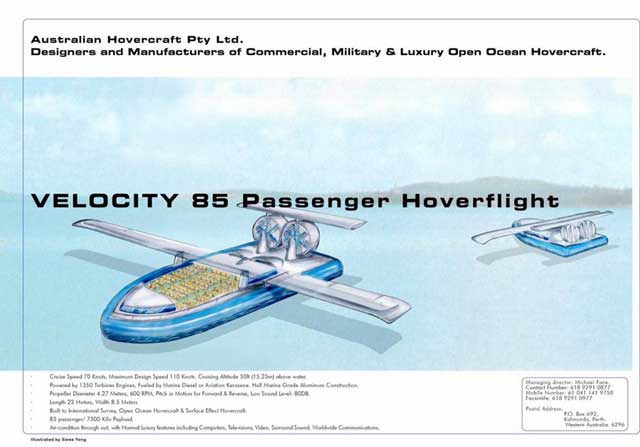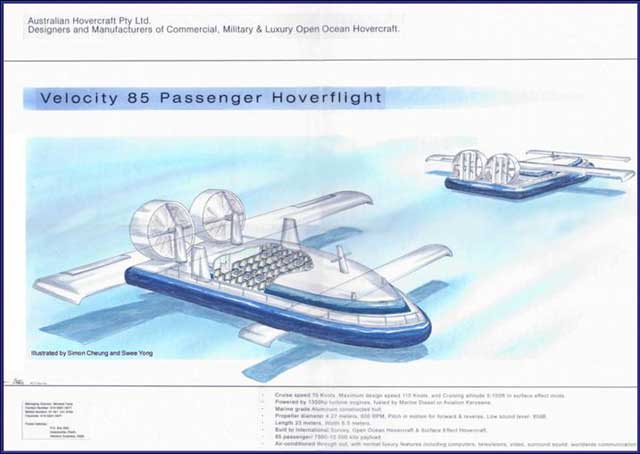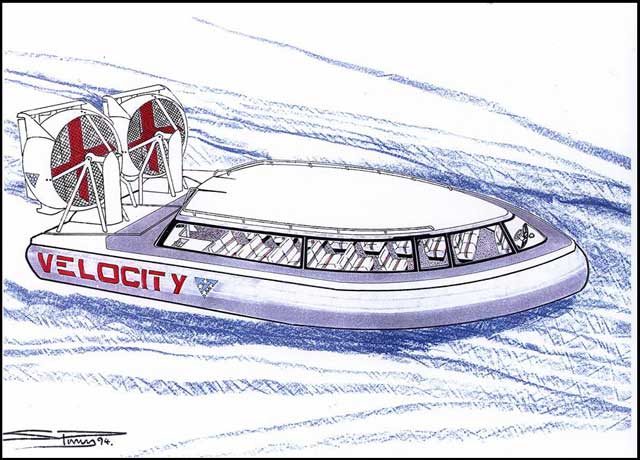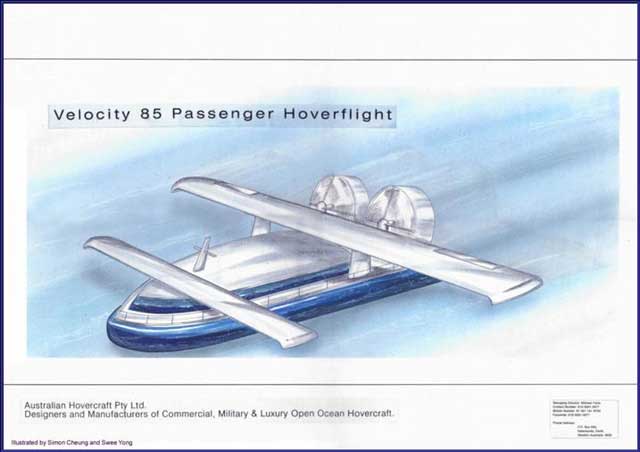 Mission
Transport 85 fare paying passengers in smooth luxurious comfort or 7500 kg of cargo, cruising 5 to 50 feet above open oceans at 70 to 100 knots for 600 nautical miles at 30% of the cost of conventional boats. Wings are easily removed for normal hovercraft missions.
Specifications
Hull: Length 25m, Width 8.5m, Empty weight 10t, Payload 8.5t, Cabin 15.4 x 7.3 x 1.9m. Construction: Marine Grade Aluminium to International Marine Survey. Removable wings for conversion to normal hovercraft operations.
Power x 2
MANN Diesel 1300 HP turning 4.2m seven blade pitch in motion propeller & centrifugal lift fan.
Crew
One flight captain (Sea ticket only) and one crew member for docking, passenger and cargo duties.
Maintenance Costs
Diesel engines useful life is more than 6000 hours with recommended maintenance. Skirt life is more than six years. Propeller maintenance is every 1000 hours. Belts and pulleys every 1000 hours. All flight systems and marine engineering review with maintenance every 100 hours. Estimated operating maintenance cost less than $100.00 Aust per Hour.
Purchase Price
Three and a half Million Dollars Australian as at December 2002
Service Guarantee
Australian Hovercraft Pty Ltd provides full training for captains, mechanical service and accounting personnel over a period of twelve months on site. All workmanship guaranteed for a period of one year.
Page updated: Saturday, September 13, 2014