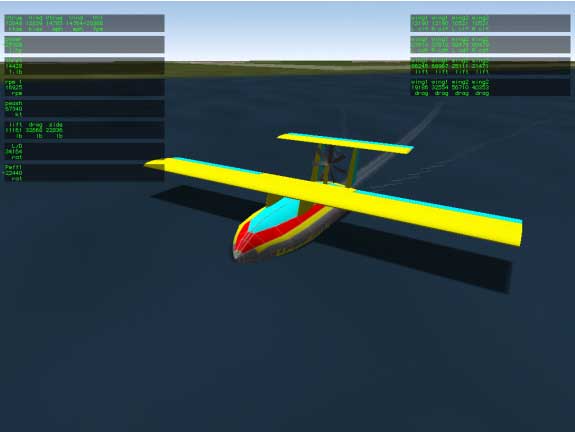 Flying Design Package shows Hoverflight 450: Landed and Stationary on Water. Note skirt will fill full of water and act as stability sea anchor.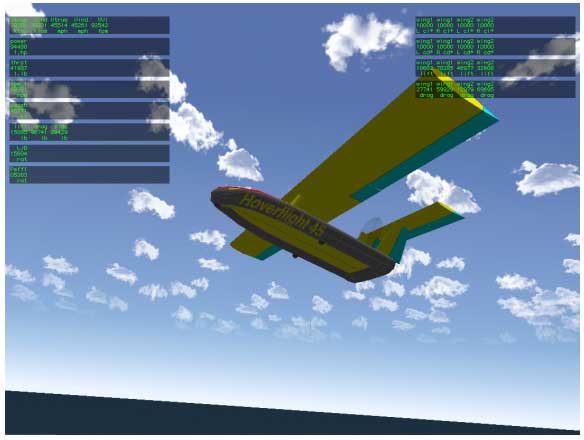 "Can climb over danger if required. Then back to cruise in ground effect above the sea. Very necessary safety feature."
---
VELOCITY 45 - HOVERFLIGHT 45
Description Summary.
Our twin engine hovercraft Velocity 45 passenger 4,000 Kilo payload is designed to be mass produced, priced to be competitive with a similar sized boat, offer generous cabin area with 300 degree visibility, low sound levels, can operate in sea states up to force six, in white water conditions, over surf, or amongst reefs with cruise speeds up to 70 knots. Departures with full load are normally from deep water.
Hoverflight 45 cruises at 70 Knots 1 to 5 metres above the ocean providing high speed ocean transport over smooth or rough seas. Hoverflight 45 is Velocity 45 - 4000 with a single 1300hp Mann diesel, one propeller with one lift fan. These wings can be removed for normal hovercraft operations as determined by mission requirements.
This craft can take off and land in open ocean in force 6 sea states and in water depths of 3mm or more over reefs or mud flats.
Passengers experience unrivalled stability at sea with air cushioned comfort never found on conventional craft. Passengers travelling in Hoverflight feel little or no experience of movement.
Air conditioning, DVD entertainment on each seat, a chefs galley, toilets with the passenger option to stroll around the deck under way, moor/drift on the open ocean, lagoons, in shallow reefs for fishing, scuba diving, water skiing or just explore natures wonders around unexplored islands and rivers in water depths greater than 3mm (1/8) inch that cannot be traversed by ordinary boats.
Twin 750 RPM 3.48 metre (10ft) diameter propellers or a single 700 RPM 4.23 metre (14ft) diameter propeller for hoverflight creates such low sound levels passengers often have normal conversations within 1/2 Meter of the propeller tip when travelling on the outside deck.
These craft are designed to carry 45 passengers or a payloads up to 4500 Kilos. The hull is built of marine grade aluminium and are powered by diesel engines. The hull, lift fans, propellers, skirts, hydraulics are designed and manufactured in our workshops.
All craft are built to Australian or International survey as required.
Modular Power Unit.
Two 450 HP or (one 1300 HP for Hoverflight) radiator cooled MANN diesel is preferred for reliability and low weight. The twin engines, centrifugal lift fans and seven blade Pitch in Motion propellers (forward & reverse thrust in a composite duct to increase thrust efficiency and eliminate sound) are installed as two interchangeable modular power units. An engine speed of 2100 Rpm gives a propeller speed of 750 Rpm (or 700 Rpm for single engine) and lift fan. Steel plastic covered mesh prevents passengers or cargo from contacting propeller blades. All modular power units are interchangeable with other craft to eliminate down time.
Controls
Three controls, throttle, rudder via a steering wheel, and an electric hydraulic control lever for forward and reverse propeller pitch. Engine speed dictates the volume of air pumped under the craft creating the desired air gap and propeller pitch dictates the desired forward speed. Engine instrumentation, running lights, air conditioning, safety equipment and anchors are standard on all craft.
Flying controls for hoverflight are identical to conventional aircraft being three axis elevators, (main wing) rudders (behind propeller) and elevators (on top of propeller duct) as shown. In addition the main wing angle of attack is varied to a greater angle of attack for take off and landing at 40 knots to almost neutral for cruising at 70 knots on 65% power. The hull and passengers remain horizontal at all stages of flight.
Hull.
The hull is manufactured from marine grade aluminium plate, 1.2m wide, 13.0m long 4mm thick underneath the hull and 3mm on sides and deck. This plate is bent longitudinally. The bent plate is then welded longitudinally by an automatic welding
process. The four bulkheads are then welded into place forming three watertight compartments, comprising the anchor storage, cabin and engine room.
The bottom and sides of the hull is bonded to foam flotation, the shape being cut by a computer controlled wire cutter. This provides emergency flotation outstanding heat insulation and soundproofing. The cabin is welded into place, fitted out, the hull painted and the modular power units bolted into place.
Wings
Wings are manufactured from composites of foam, Carbon Fibre and Kevlar for high strength, light weight and no corrosion or maintenance problems.
Skirt
The skirt is made of hyperon nylon neoprene and is a special variable pressurised chamber type designed and manufactured by Australian Hovercraft Pty Ltd. This skirt was designed to operate in rough sea conditions with a design life of 4,000 hours. Our current craft has shown no skirt wear over a two year testing program with no skirt maintenance. This design allows the hovercraft to travel high speeds in very short seas.
Cabin
Entry to the cabin is via two forward side doors down the stairway. The interior dimensions are 10.93m long, 5.5m wide with a cabin height of 1.9m. A person standing in this cabin would observe the hull height is at waist level with tinted glass from the hull height to the ceiling giving 300 degree vision to outside scenery. The interior can be fitted out to include items found on most luxury craft such as air conditioning, television, video, stereo sound system, fridge, microwave oven, sink , toilet and shower. Power is provided by a 24 volt DC invertor to give 240 AC current or an diesel alternator. Lounge seats shown in the plan measure 500mm by 500mm with contoured backrest. Ample legroom is available between and underneath the front seats. Much more useable space is available if business class or economy airline size seats are fitted. Male and female toilets and a galley are also shown. All seats are removable for cargo operations. The cabin is fully air conditioned with heating provided for colder climates.
Specifications

Velocity 45 - 4000

Hoverflight 45

Hull length
17.00m
17.00m
Hull Width
6.50m
6.50m
Cabin Length
10.93m
10.93m
Cabin Width
5.50m
5.50m
Cabin Height
1.90m
1.90m
Freeboard
1.57m
1.57m
Propeller Diameter
3.048m
4.23m
Hull distance above water
1.00m
1.00m
Empty Weight
3.5 - 6.5 Tons depending on engine and fit out
Payload
4.5 Tons
4.5 Tons
Maximum speed
70kts
80kts
Normal Cruise
40kts
70kts
Passengers
45+ at average weight of 75kg
Specifications may change without notice
Operational
Our craft operate on/over water then dock at any jetty, mud flats, or waters edge to offload passengers or cargo. Shore to ship or ship to ship transfers are best done at a speed of 5 knots where in rough seas our hovercraft skirt will press against the ships hull allowing safe passenger and cargo transfers. The skirt is a excellent buffer and hull protector for both vessels. Operations over sand or rocks are not recommended due to possibility of sending sand into bystanders' eyes or into the propeller. Passengers on our hovercraft Lady Bernie demand a maximum speed of 5 knots over reef so they can stand outside the cabin to view reef, coral, sea grass, fish and other marine creatures. Water skiing in deep water is a must for tourism providing great fun for skiers and onlookers alike. All Passengers stand on the port or starboard side of our craft with little or no listing. Fuel consumption figures per engine manufactures specifications at 65 to 70% of full power. Engine life with excellent maintenance is between 5,000 and 18,000 hours. These figures change to various operational factors such as short trips, high engine load with many cold starts (5,000 hours), long trips or continuous operations where the engine is always hot with constant power settings (18,000). Quality servicing eliminates down time and extends engine and component life to reduce operational costs.
Environment
Cruising speeds of 10 knots or more creates waves of 3mm inch, causing no erosion to river banks.
The propeller at cruising speed is 750/700 Rpm or less creates a low frequency sound that dissipates over a short distance. Tests done with dolphins, sea lions, and birds at nesting colonies have proven our hovercraft can get twice as close to the animals as a boat of the same size (with an outboard motor) before the behaviour of these animals changes.
Passengers often stay on the bow, side decks or rear deck while the craft is moving and have been unconcerned with the sound levels.
The skirt design allows people standing in waist deep water to have the hovercraft pass over the top of them at 5 knots without injury. A diver 5 ft under the water cannot hear the craft pass over him.
Survey
Hovercraft and Hoverflight are classified as marine craft and are surveyed by German Loyde (GL) Det Norskje Veritas (DNV) , American Burueo of Shiping (ABS) or Commonwealth of Australia Marine Survey. Survey is not required for private pleasure craft or Military craft.
Page updated: Saturday, September 13, 2014